Custom Home Builder, Anderson Construction Group, Inc., is recognized as a premier home builder that places thoughtful emphasis on the owner's wants, needs, and the site location.
They consider ways to utilize the natural surroundings. All while working to reduce the carbon footprint and increase the home's safety.
DAVID ANDERSON
Owner David Anderson's design style has been described as comfortably elegant.
David is very knowledgeable when it comes to budgeting new home builds. He is also known for getting the most out of a project budget.
His knowledge in Project Management and Consulting is crucial for drafting contracts, scopes of work, and negotiations.
David is a stickler for "perfection". He takes extensive measures to ensure his builds are completed on time and without compromise.
He believes in an open-door policy and finds it important to be available to his clients.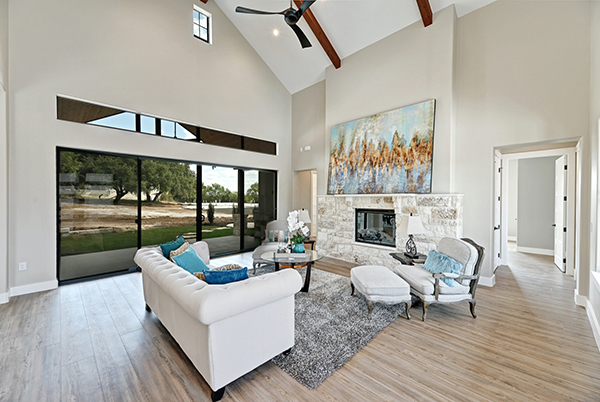 Custom Home Builder
Building your home to meet or exceed code requirements can have a significant impact on whether your home withstands not only the test of time but the next big storm. Many parts of the country follow the International Building Code, which establishes and governs design standards for new home construction. If properly enforced, these codes help strengthen homes and protect them from storm damage. Understanding and preparing for natural disasters specific to the home site is also crucial to a home's longevity.
Anderson Construction Group, Inc. has the manpower, skills, and experience to tackle these challenges in addition to a wide array of home construction obstacles. We go out of our way to bring your ideas and wishes to life in a timely, affordable, and beautiful fashion.
PLANNING AND DESIGN
Anderson Construction Group, Inc. has always focused on the details. After all, they make the difference in the planning and design phase of your home. Our team is dedicated to making this process a fun and exciting time!
We offer a team of architects, each specializing in specific design types and styles. We are happy to provide you with an architect experienced in your project type. They will work with you to design your dream home.
Or we can accompany you to design meetings with your architect. We will perform detailed reviews of your home throughout the design process. We'll also ask plenty of questions along the way to assure that your home meets your standards and wishes.
FINDING A LOT
We can build on your lot or assist you in finding a lot. Our team is happy to accompany you to evaluate lots you are considering. We can provide feedback on topography and how it can affect construction costs. Additionally, we can determine the size and layout a specific lot will accommodate. Our expertise will make your search for a lot, an easy one.
YOUR DREAM HOME AWAITS
Our mission is to combine your wishes with luxury and functionality in the way that makes a house a home. Every member of our team is dedicated to constructing the home of your dreams. We work hard so that we not only meet but exceed your expectations.
Call us today for more information about our home construction services. We are happy to schedule a free consultation with you.
To learn more about David Anderson's qualifications as a custom home builder. Click Here
Custom Home